Free Management Decision Audio Book
Say YES to my world famous newsletter and get access to the brilliant and monstrously funny audio eBook broadcast quality version of MANAGEMENT DECISION.
---
How in the world are you from Norm "still stuck in Cowchip Alabama" Morrison!
I am as tickled as I can be to offer my free audio edition sho nuff Audio Book of MANAGEMENT DECISION.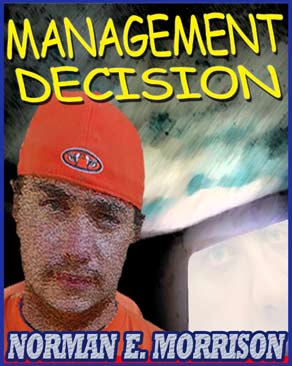 It's going to be all the fun to read your free Amazon Kindle edition while you listen to the Cowchip Players speak the book on your speakers! All you need to do to get hooked up is sign up for my super infrequent newsletter. The form is at the top of the page up there.
You'll be lucky if you get two newsletters a year and even if I knew how to sell a mailing list I wouldn't do it. So there.
What's it all about, you ask? Well, bring up this page and read all about it: Norm's Author Page On Amazon.
There you'll see all my books listed. The first one, MANAGEMENT DECISION is FREE. The rest will cost you a bit, but it's durn well worth it. Read my books and PLEASE leave a review for others. (Especially if you like them!)
So sign up by filling in your email above and in your welcome mail I'll give you the access to the free audio edition. It runs about 16 minutes and was recorded at the RYO Studios in the secret RYO Corporation building right outside of downtown, Main Street & Cowchip overlooking the beautiful and deep Lake Jake. Get yourself ready to hook up with America's favorite hometown, Cowchip Alabama and learn all about the world's most secret corporation, the RYOCorp right there in Cowchip. Wow!!!